Sewer Scope Inspection Lakewood, WA
Sewer Drain Camera Services Washington
Drain lines can only be examined by a specialized sewer drain camera
Whether you are on the city sewer system or a private septic, this inspection will tell you if there are issues with the lines and what repair work may be needed.
Here's what we can find with a sewer scope inspection:
Tree Roots

Vegetation growth can occur underneath your home overtime which can lead to damaged pipes.

Bellies

Overtime settlement or improper installation can lead to bellies which cause poor drainage.
Leaks

Undetected leaks can occur underneath your home. Leaking sewage can lead to home settlement and bad odors.

Corrosion

Cast Iron drain lines are known to corrode from the inside out overtime.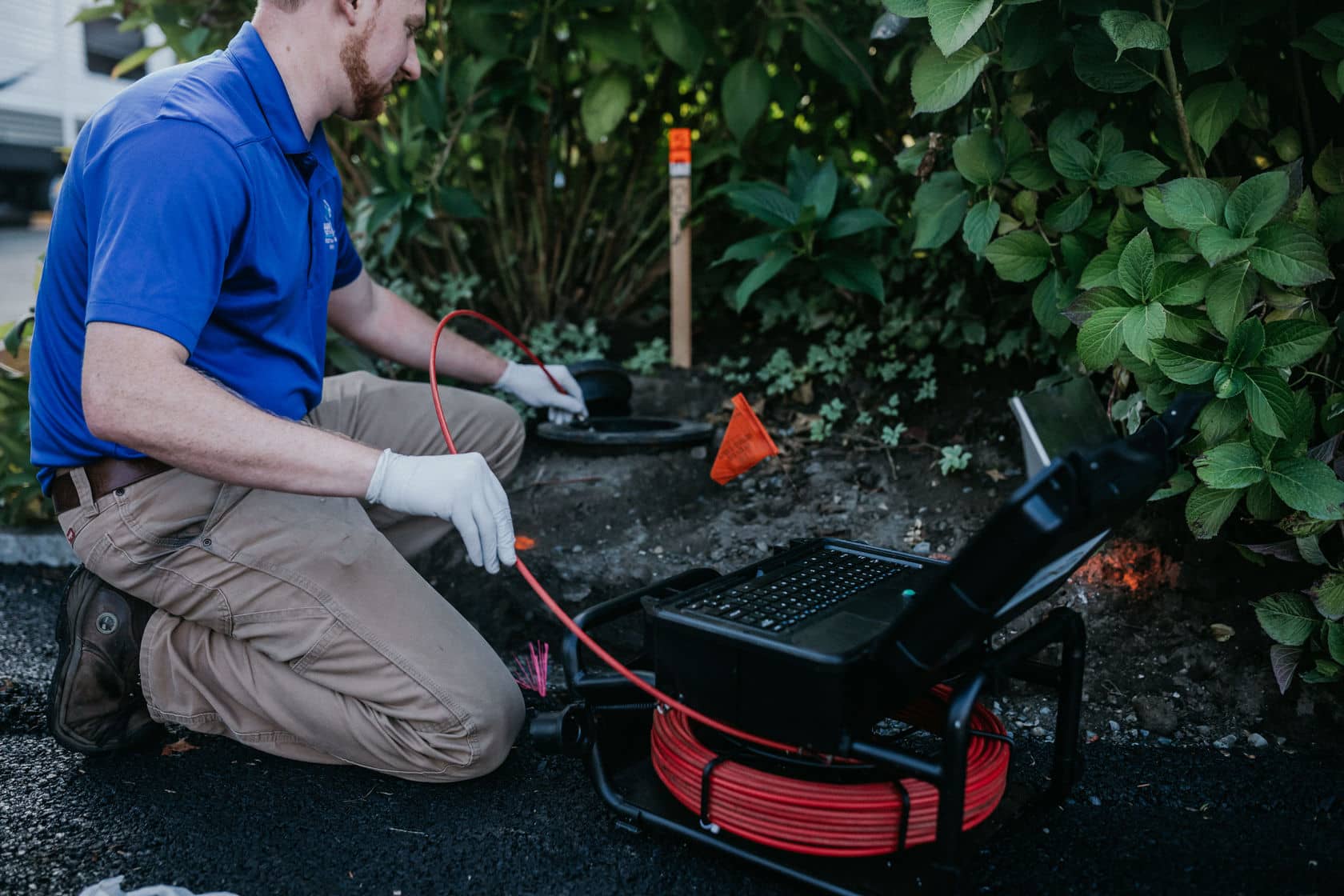 Why is a Sewer Scope Inspection Important in Lakewood Before Buying an Older Home?
During the life of a home many things can occur underground to the sewer lines without the homeowner knowing it. So, when purchasing a home, gather all the information, including the condition of your sewer lines. "All kinds of things can be detected by a sewer scope," shares Boggs. "Tree root invasion, pipe breakage or pipe collapse can all be seen during the inspection."
Tree root invasion is one of the most common in our year-round growing climate in the south sound. Over time, small roots can creep into tiny crack and openings in the sewer line and begin to expand. They often then form traps for debris traveling down the sewer line, creating backups and clogs. Ultimately, the roots will cause breakage in the lines leading to leaks and line failure.
Homes constructed prior to 1950 have sewer lines made of a tar paper substance called Orangeburg pipes. Over time, these pipes disintegrate and collapse. The only way to determine if an older home (60+ years) still has Orangeburg pipes is with a sewer scope inspection.
The process is extremely easy yet can save you thousands or tens of thousands of dollars in repair, excavation and landscape destruction. "The inspections typically run about $200 to $250," shares Boggs. "That's a small price to pay for the peace of mind that your sewer lines are in good shape, possibly saving you thousands in future repairs."
Historic bungalows and sprawling mid-century ranches are desirable in today's market for unique and character filled homes. But, they come with hidden risks. A sewer scope can check one of those off your list.
Why Have a Sewer Scope Inspection Lakewood WA?
Peace of Mind – How do you know your sewer is good?  Having the sewer inspection conducted can take the guess work out of the equation once they have diagnosed the problem.  With good results there are no worries of unexpected costly repairs.
Be Proactive – If smaller issues are found you can fix them after the closing.  A small plumbing problem can lead to bigger ones over time if not taken care of.  This can result in those costly repairs.
Avoiding the Costly Repairs – If you know going into the sale that there are major problems in the sewer line and sewage system, you can negotiate a lower purchase price of the home.  You can also ask the seller to fix the issues and if they refuse, walk away.  You always have a choice and that can help you avoid the taking on the expense of the fix yourself.
About Lakewood
Lakewood is located in Pierce County, WA, and as of the 2020 census, it had a population of 63,612. Lakewood is home of 16 parks, 3 golf courses, and 5 lakes, Lakewood is the outdoorsman playground. Boggs Inspection Services wants to help you with your forever home. Let us perform your sewer scope inspection in Lakewood.
Our Clients Absolutely Adore Us
Very pleased with the service. He showed up on time, was very thorough in the inspection and explained everything to us. Would recommend Boggs Inspection Services!!

Penny Cory

Google Review
Very thorough inspection! I am a first time homebuyer and all things noted were explained to me in detail to where I understood the issues and how to correct them. The inspection report also came very timely the next morning. Would recommend!

Monica Heintzman

Google Review
Perry was our inspector. Great service and attention to detail. walked us through everything as he went and answered all of our questions. Experienced and professional.

Ben Cross

Google Review