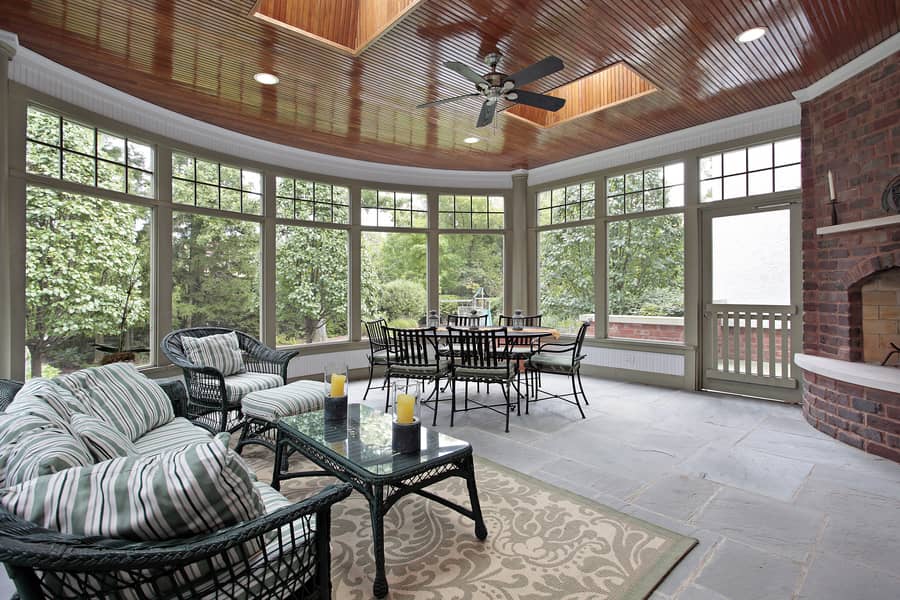 Most homeowners that have a screened porch would like to use it year-round. There is just something about sitting on the back screened porch and enjoying a good cup of coffee or a nice meal with your family that makes it so enjoyable. When the winter months come, those plans seem to change a lot. Luckily, you can actually winterize or convert your screened porch into a functioning room during the cold winter months. The choice is yours as to how you do it. It will depend on your usage of the screened enclosure. How to keep screened in porch warm in winter? Plastic coverings are the first option, and you can even transform the entire room.
Let's take a look below at the options available and what might fit your needs best.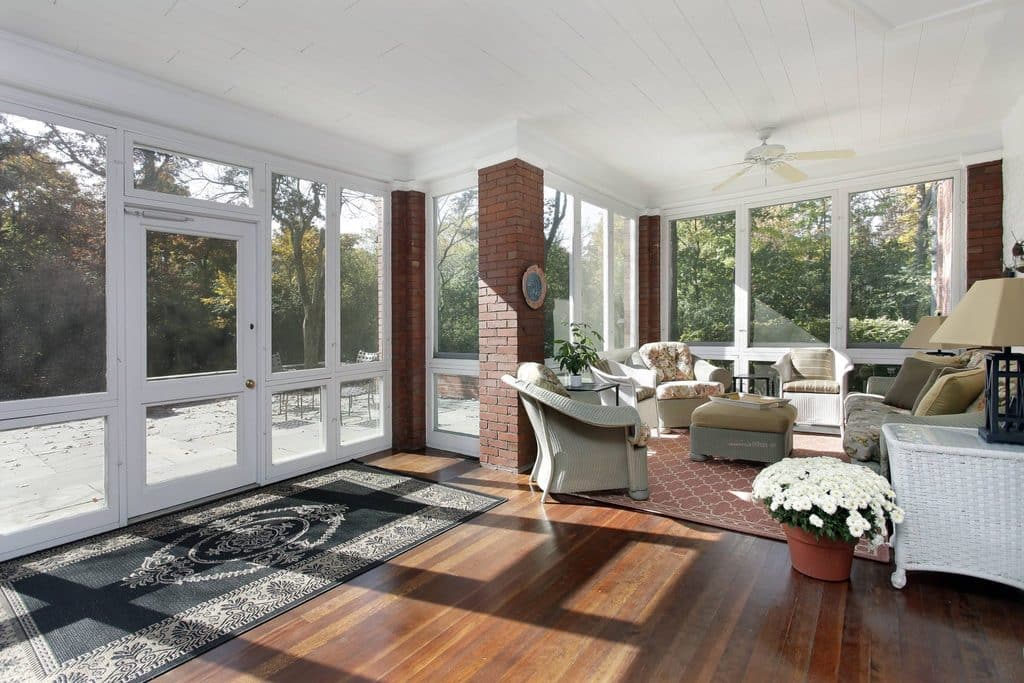 What Are My Options
Believe it or not, there are a variety of options for keeping your screened-in porch warm in the winter so you can enjoy the winter days. Each option available is highly effective and most homeowners' choices can vary based on budget. In some cases, spending a lot upfront to transform the entire porch into a sunroom is most sensible. Here are the best options.
Heavy-duty Vinyl Curtains – this is the cheapest way to cut down on the wind and leaves entering your screened-in porch. However, the cold will still access your screened-in porch. You might find yourself adding a heat lamp or space heater to warm the space. This allows you to sit on your porch in the winter.
Vinyl Sheeting – by using velcro strips, you can attach plastic sheeting to fit the window. This can keep wind, dirt, and cold air out. This project can keep you from damaging the window frame.
Paneling – place vinyl or acrylic panels into the window frame. You will immediately seal the area off from the wind, debris, and cold air. In addition, you can reuse all that you have cut out and remove the panels for your summer enjoyment. They are also storm-friendly.
Transform – creating a sunroom is a great idea to keep your screened-in porch warm in winter. You can take your current structure and add full functioning windows with screening. Sealing off the entire room lets your outdoor space become a season room. Then, instantly you will be able to enjoy the porch during the warm and colder months. Although this is clearly the most expensive plan, it is the most functional plan.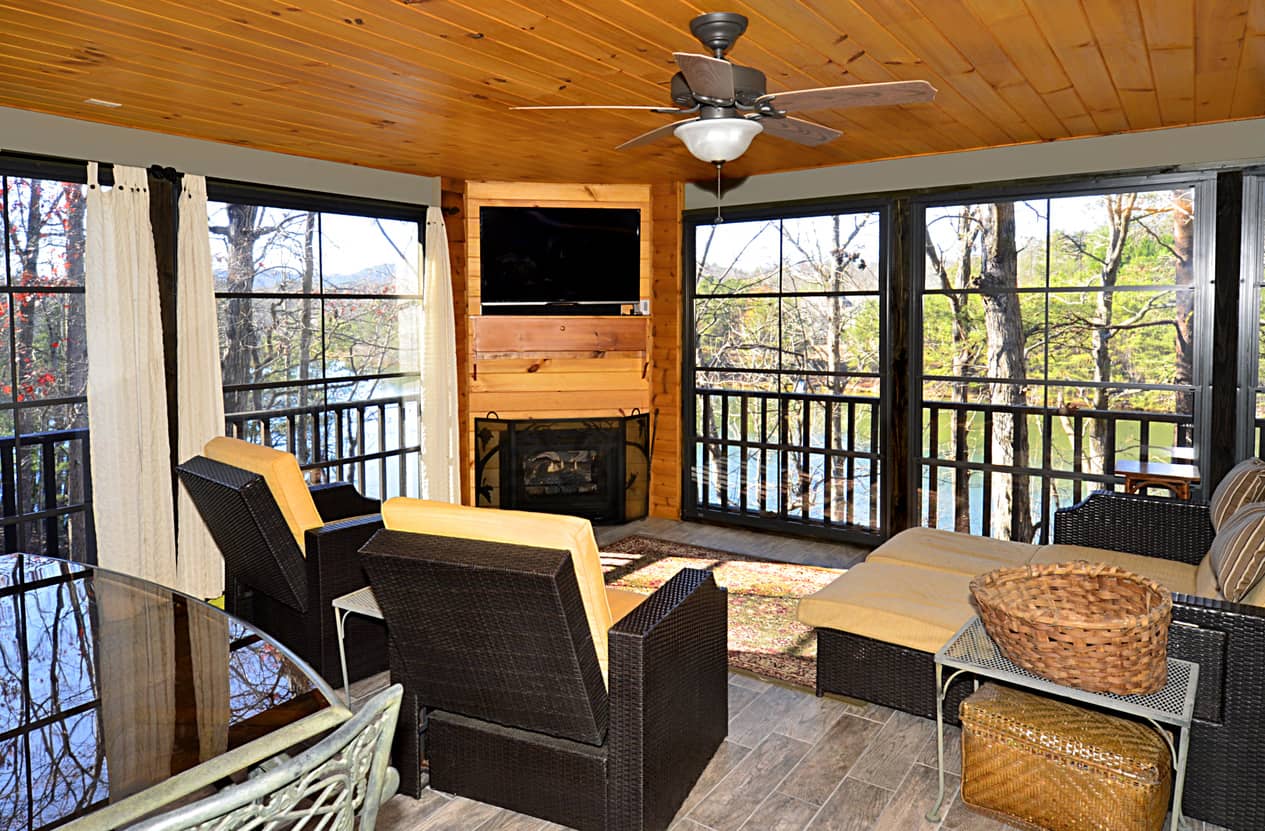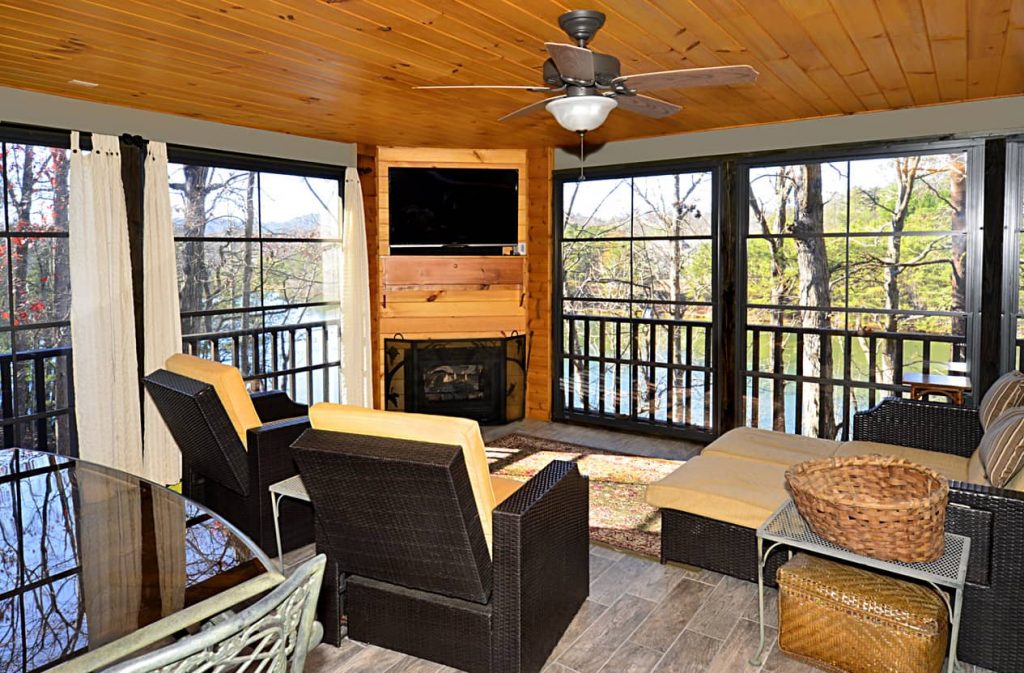 Additional Options
No matter what you choose for winterizing your screened porch, there are always additional ways to enhance your porch. The goal is to make it as enjoyable in the winter as it is in the summer.
Thoroughly clean your porch – clean the porch thoroughly. Remove all furniture so that you can do a deep clean before the winter months. Get all mold, mildew, and rust under control on the porch.
Winterize furniture, fixtures, and fittings – store any furniture and fixtures that are not capable of withstanding the cold winter months. Make sure you have winterized the porch by sealing all cracks and crevices with waterproof sealant. Also, check that you have placed outlet covers on your outlets and check that they are safe for outdoor use.
Add a fireplace – installing a fireplace is also a great idea here. There are a variety of heating systems. You can either go with a built-in fireplace or even an electronic fireplace. A stand-alone gas heater or space heater is also feasible here.
How Much Does It Cost
The average cost of material to winterize your screened porch is $7 to $10 per square foot. You can also expect to pay an additional $5 in labor costs. Enclosing the screened porch into a sunroom could cost you around $150 to $300 per square foot.
Other Recommended Maintenance
While you are winterizing the porch, it is a good idea to check out other areas in the house. Insulating the sliding doors is a good idea and you can do this by vacuuming the door track, investing in heavy curtains, replacing weather stripping, and installing a plastic window.
Another area to prepare is the sprinkler system. You want to make sure that the system doesn't run when the temperature is below 32 degrees Fahrenheit. Also, the way to do this is to shut off the water supply, unplug the booster pump, relieve pressure, and open up the outside valves and valves.
Lastly, if you have snow on your roof, sometimes you need to remove it if the roof is overstressed. If the roof isn't overstressed, then 20 pounds and over of snow definitely needs to be taken care of. One way to do this is to use a snow rake.
When Do I Call A Professional
Depending upon which type of screened porch renovation you would like to complete determines the tools and equipment needed. Once you have decided and realize that your choice is not a do-it-yourself version, contact your local professionally licensed contractor. Doing this saves you time and money on a project that could get expensive depending on the types of tools that you would need to purchase.
Conclusion
Due to the nature of the project, you should definitely call on your local professionally licensed contractor. If you aren't sure who to call, then reach out to your local home inspection team. They can conduct a full home inspection and let you know what would work for your screened porch.
After the home inspection is complete and you are aware of what repairs are needed prior to converting your screened porch, they can recommend the most reputable professionally licensed contractor. Your home inspection team can ensure that the project you choose fits the structure of your porch. Call on Boggs Inspection Services to get a home inspection and a screened enclosure inspection, completed in the Lacey, WA, and surrounding areas